GAMURS Group November 2022 Summary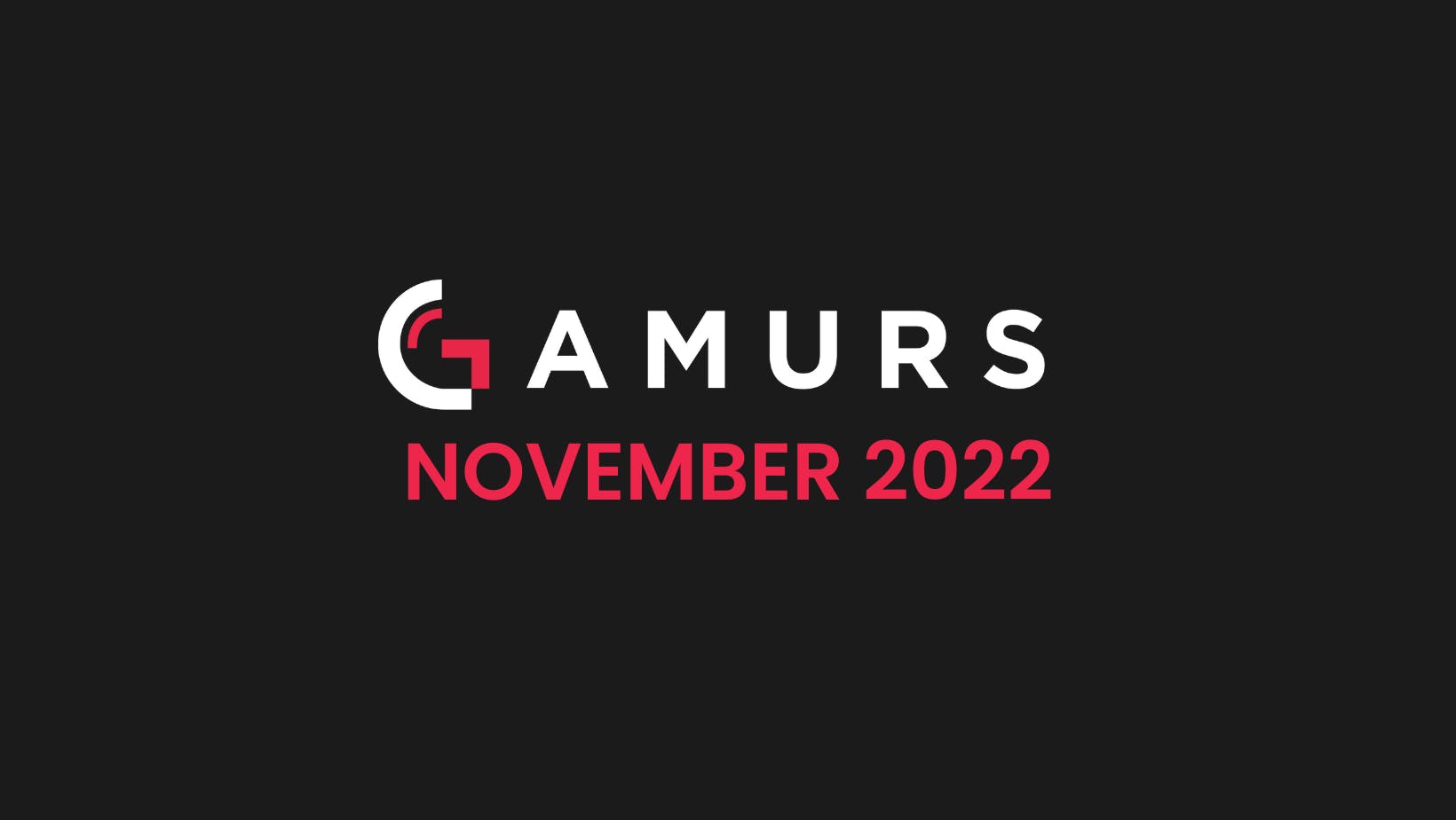 As we approach the end of Q4 and with only one month until the new year, November firmed up as another great month for GAMURS Group. We marked more successes this month with some amazing growth of our portfolio and noteworthy performances from our flagship publication, Dot Esports, as well as Prima Games. We also celebrate the completion of our ninth acquisition of 2022 welcoming Game Skinny to our growing portfolio, and finally, we round out the month by maintaining 5th place in our Comscore media rankings. 
Our performance
This month saw a mixed bag of gaming industry news. From more updates in Microsoft's bid to acquire Activision Blizzard to an unlikely partnership between Ubisoft and Riot Games in an effort to fight toxicity in the gaming community, there was no shortage of interesting discourse amongst gamers and gaming fans alike. The online buzz reflected in our numbers for November, with GAMURS recording an astounding 55M active users from the 1st to the 30th of this month, followed by 15.6M returning users, 129M pageviews, and 85M sessions across our 17 publications, achieving a growth 12% from October. 
Accompanying GAMURS' overall performance, Dot Esports and Prima Games achieved astounding results. The release of Pokemon Scarlet and Violet introduced a myriad of walkthroughs, strategy guides, and whacky in-game glitches which proved fruitful and delivered some great content for both publications. Dot Esports achieved an average growth of 30% whilst Prima Games went above and beyond with an average growth of 130% for the month, proving a momentous comeback for such a historical brand in video game history. 
Game Skinny joins the arena!
GAMURS Group announced its ninth acquisition for 2022, welcoming Game Skinny to our portfolio and marking yet another huge milestone. Game Skinny was founded in 2012 and features a unique, collaborative online publishing system that supports journalists to have ownership of their own content and empowers them to contribute their voices to the global conversation. This marks our 17th publication and further grows the GAMURS gaming vertical, reaffirming our position within the gaming community and as a voice within gaming media. 
Comscore
GAMURS Group has maintained 5th place in the gaming information category for media companies on Comscore this month, recording 16.1M unique visitors (UVs). This marks the highest number of UVs we've achieved this year as our digital footprint continues to expand, with the business focusing on both acquisitions and a higher content output. Our main demographic continues to be people aged 25-years-old and above, high income households, and consumers without children, indicating a consistent pattern in GAMURS' engagement coming from avid gamers and entertainment aficionados. 
In conclusion
We're still not quite at the finish line yet, but we're busier than ever. GAMURS Group have accomplished another momentous month which has been a part of an even greater year. We're looking forward to seeing what December has in store for us, and how we'll welcome the new year.